Our Advisory Board
Jacob M Silverstone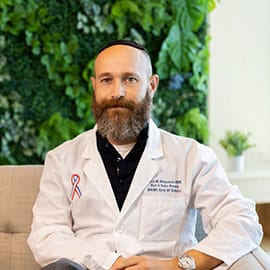 Jacob M Silverstone, D.P.M is a board certified  forefoot, rear-foot and ankle reconstruction surgeon who has accomplished outstanding training under some of the northeast's top foot and ankle surgeons, and a pioneer in the art of minimal invasive surgery.
Dr. Silverstone completed an extensive 3 years surgical residency and has gained exposure and experience to sports medicine, trauma, elective surgery and reconstructive surgery.
Born in Mexico, Dr. Silverstone's family emigrated to New York. Dr. Silverstone received his Bachelor of Arts from Hunter College in New York City in 2004 and continued his education in podiatric medicine at The New York College of Podiatric Medicine where he graduated amongst the top of his class.
Dr Silverstone then completed his surgical residency at North Shore-LIJ Hofstra School of Medicine in Long Island, NY under the auspices of some of the top podiatric and orthopedic foot and ankle surgeons. Additionally, as a resident, Dr. Silverstone worked alongside Fordham University's team podiatric physician treating its athletes.
Dr. Silverstone has completed a multitude of FDA approved research developments as a Primary Investigator and has multiple patent pending instrumentation and techniques. He sits as a program director and division chief at his affiliated hospital.
His passion for integrative psychedelic therapy led him on the course to pursue a career shift.  He gained a tremendous amount of expertise in ketamine and its function. His primary objective is to utilize his expertise and collaborate with psychotherapists, mental health therapists and affiliated providers  to help patients reduce their pain, rewire their minds and regain control of their lives by freeing them from their suffering.
Luis Enrique R. Liogier-Weyback, MD, MSc
Luis Enrique R. Liogier-Weyback, MD, MSc holds dual Bachelor of Science degrees in Chemistry and Biology and a Post-Baccalaureate in Medical Sciences from the University of Pennsylvania. He graduated Magna Cum Laude as one of the first physicians in the world with a Master of Science degree in Medical CannabisScience and Therapeutics from the University of Maryland School of Pharmacy.
He obtained his Doctor of Medicine from Eastern Virginia Medical School in 2014, received his residency training at the Medical University of South Carolina, and is a member of the Congress of Neurological Surgeons, American Association of served as Chair of the Board of Editors of the Journal of Cannabinoid Medicine and is the President and Founder of Doctor Jane, South Florida's most professional and discreet concierge medical cannabis and psychedelic medicine practice.
As a United States Navy veteran and a neurosurgery-trained physician, Dr. Weyback has made it his mission to bring education and evidence- based personalized therapy into his patients' homes.
Given his extensive personal and professional experience with traumatic brain injury, he decided to concentrate on injury prevention and recovery. When his wife became ill necessitating a change in career from neurosurgery, Dr. Weyback transitioned to wellness and preventative medicine.
Additionally, he is an Athlete Ambassador for Athletes for Care, a nonprofit organization started by and for professional, Olympic, and collegiate level athletes with a focus on advocacy on traumatic brain injury, cannabis, and psychedelic use as a medical therapy.
Contact: www.doctorjane.net
Lancer Naghdechi, DO (pronounced: nag-DEH-chee) is a diplomate of the American Board of Psychiatry and Neurology and is board certified in Psychiatry and board eligible in Child & Adolescent Psychiatry. He is licensed to practice in New York, New Jersey, and Florida.
Dr. Lancer Naghdechi graduated from UCLA with a bachelor's degree in Psychology before receiving his Master's degree in Biomedical Sciences from Rosalind Franklin University of Medical Sciences in Chicago.
He attended medical school at Western University of Health Sciences in Los Angeles before completing Psychiatry Residency at Rutgers New Jersey Medical School in New Jersey. While in residency, Dr. Naghdechi completed a Fellowship in Psychoanalysis at the Psychoanalytic Association of New York, an affiliate of NYU Grossman School of Medicine.
After residency, Dr. Naghdechi completed fellowship training in Child and Adolescent Psychiatry at Northwell/Zucker Hillside Hospital (also known as Long Island Jewish Medical Center/Cohen Children's Medical Center).
Dr. Naghdechi has presented at multiple national conferences including the American Psychiatric Association, the American Academy of Addiction Psychiatry, and the American Academy of Child and Adolescent Psychiatry. His work has been published in several well respected journals and textbooks including:
The Handbook of Wellness Medicine (2020)
The Textbook of Clinical Sexual Medicine (2017)
Technological Addictions (2022)
Journal of the American Academy of Child & Adolescent Psychiatry
Clinical Neuropharmacology
The Harvard Review of Psychiatry
Journal of Hospital Medicine
International Journal of Medicine
International Neuropsychiatric Disease Journal
Locations:
New York City: 111 E 80th St. Ste 1D, New York, NY 10075
Miami Beach: 300 W 41st St Ste 213, Miami Beach, FL 33140
Pompano Beach: 50 NE 26th Avenue, Suite 400, Pompano Beach, FL 33062
Bergen County: 488  Engle Street, Englewood NJ, 07631
Jared Mendelsohn, MD, board-certified American Board of Psychiatry and Neurology. Dr Mendelhon is a psychiatrist with significant cognitive behavioral therapy experience. He specializes in child, adolescent and adult psychiatry. He has particular interest in treating mental health and behavioral health conditions with a combination of psychotherapy, psychopharmacology and a holistic and integrative medicine approach that is unique and specific to each individual under his care.
He obtained his bachelor's degree in biological basis of behavior at the University of Pennsylvania and received his medical degree from Northwestern University Feinberg School of Medicine. He completed an internship in Internal Medicine at Montefiore Medical Center/Albert Einstein College of Medicine in New York.
Following his internship, he pursued a residency in psychiatry and went on to subspecialize with a fellowship in child and adolescent psychiatry, both of which he completed at Jackson Memorial Hospital/University of Miami Miller School of Medicine.
After completing his training, Dr Mendelsohn has spent time treating patients in his clinic, doing consulting work to assist other medical specialists with their patients and training the next generation of psychiatry residents and child and adolescent psychiatry fellows. He is board-certified by the American Board of Psychiatry and Neurology.
Aaron Schwartzman Licensed Mental Health Counselor. Aaron specializes in addiction, trauma and emotional regulation. Using modern research and interventions. He believes there is no such thing as a 'one size fits all' approach when it comes to addictions, and unhealthy or unwanted habits. As an existential, humanistic counselor, he takes a psychodynamic approach to treating individuals' personal needs, while simultaneously treating mental health struggles, substance use and process addictions.
As a new-age therapist, he will guide you towards maintaining a meaningful and healthy life. Unlike the traditional approaches, which do not fully focus on the client's uniqueness in approaching their recovery, his outlook is to simultaneously treat the addiction and underlying trauma and meet clients where they are at.
Addicts are often misunderstood, which is why it's important to understand their own unique perspectives. He  knows that addicts need to be loved unconditionally in order for them to truly heal, which is why he provides this type of therapy with empathy and understanding.
Guided & Self-Guided Ketamine Treatment Journeys
A personalized experience designed to meet your goals.
¡Hablamos Español!